Donate to Mary Rose Mission
When you make a donation to the Mary Rose Mission, you can be sure that your donation will make a positive impact on our community.   Your gifts allow us to provide food for those who need it the very most!  Any donation is appreciated, and not donation is too small.
For example: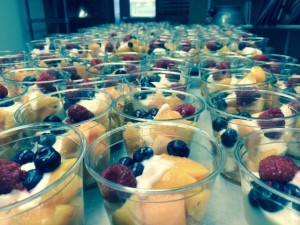 A $10 gift = Full meal service for a family of 4

 A $25 gift = 6 gallons of milk for dinner service

A $50 gift = meat for the "entree of the day" to feed 100 people

A $100 gift = Delicious home-made lasagna for 100 people

A $250 gift = Food and drinks for a full dinner for 100 people

 A $500 gift = 2 full service meals and drinks for 100-125 people
You may use the link below to make a tax deductible gift with your credit card via PayPal.
If you prefer,
Checks may be mailed to:
Mary Rose Mission
272 Main Street
Florence, KY  41042
We now have a Brokerage account set up for our donors to contribute stock.  Contact maryrosemission@gmail.com for more information.
Memorial Gifts
What better way to remember a loved one than by making a donation to help others in his/her name?  If you would like to make a tax deductible donation by mail in memory of someone, you may mail checks to the above address and specify the loved one's name on the "memo" line of the check.  If you would like a family member notified of this gift, please include a note with that person's contact information so that we may inform them that you made a memorial gift donation.  
If you would like to make a memorial gift donation online, please click the above "donate" link and specify the memorial name in the box that says "Add Special Instructions to the Seller".  Please also add the name/address of anyone that should be notified regarding your donation.
We appreciate your consideration and are happy to answer any questions you may have either via email maryrosemission@gmail.com or via phone 859.292.0300.  Thank you again and God Bless!