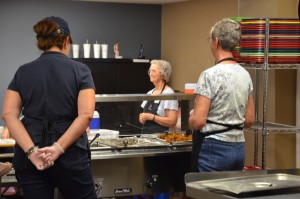 Thank you for for your interest in Mary Rose Mission.   We would not be able to serve the community without your help.  Below are a few things that are important to know before you volunteer.
All of our scheduling is done through an online volunteer calendar.  We are unable to schedule you via an email–you must request a link to the calendar and sign up through our volunteer calendar.   (See Below)
After you have signed up:
**Everyone must wear closed toe shoes for safety
**Bring a hat or a hairnet will be provided
**Park in the rear of the building closest to the guest entrance
**Cook shift should arrive at 11:00 (unless directed otherwise by the lead cook)
**Serving shift should arrive promptly at 3:30 (2nd shift).  The 2nd shift is expected to stay until their shift has been completed (approximately 6:30pm).
**In case you need to cancel on your assigned day, please change your assignment on SignUp AND leave a message on our voicemail at 859-292-0300.
If you would like to volunteer but are not receiving an invitation from SignUp (formerly VolunteerSpot), please see below.
**Any person who receives assistance from the Mary Rose Mission may not volunteer at the center without the permission of the Director.
To receive a link to our online calendar:
All volunteers must be high school age or older.  8th Grade students may volunteer with an adult.
If you would like to volunteer, please send an email to Volunteer@maryrosemission.org with your name, phone number, and email address.  Our Volunteer Coordinator will send you a link to our online calendar, SignUp.  You will select your day(s) to volunteer from that link.